LALAL.AI is an intuitive, free to try, next-generation pay-as-you-go stems isolator and vocal remover. The company puts forward their product as a "zero audio quality loss" solution. Is that true? Does LALAL.AI separate the wheat from the chaff and the drums from the vocals? We put it to the test.
In an era of accelerated machine learning, advances continue to be made in domains previously considered impossible. As our recent Steams Shootout showed, one of the most exciting of these areas is the separation of stereo files into their constituent track elements – the sort of technology one might have only dreamed of just a decade or so ago.
While the Steams Shootout focused on full-featured standalone software solutions, LALAL.AI has been working on a browser-based option that works a charm — so long as you only need to isolate one component at a time.
Their elegant website works best on a Chrome-based browser and is intuitive to use. (Note: Safari didn't appear to like the preview player plug-in.) The initial page invites you to drag and drop your file straight away.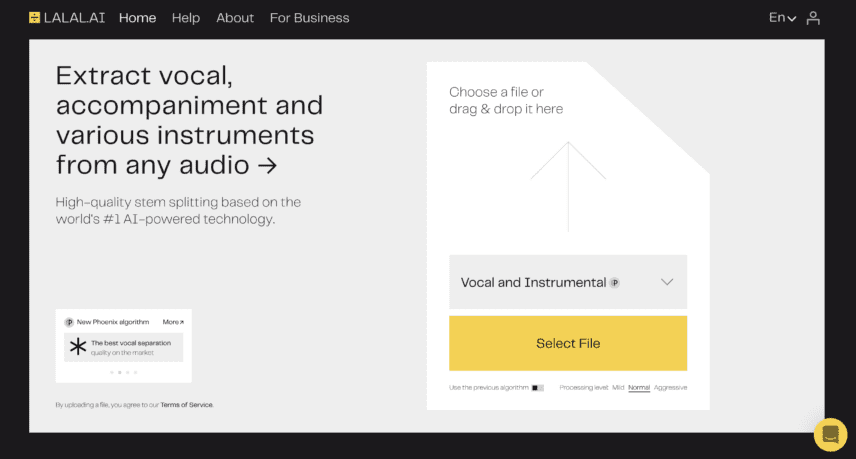 LALAL.AI's default setting separates vocal elements from the backing instrumental using their advanced Phoenix neural network algorithm, which you can read more about here. If you're working with instrumental material, you'll need to select a different element to strip away from the other material: drums, bass, electric guitar, acoustic guitar, piano, or synthesizer (currently in beta).
It's free to try and seems almost silly not to, particularly if you've got a vocal or other performance in mind that you've always wanted to isolate from the original for a remix or mash-up. The free plan allows up to 10 minutes worth of audio separation, with a reasonable upload limit of 50 MB per file, with an understandably slower processing queue. The file type you upload is the same that is processed for download, so if you want WAV output, you'll have to upload a WAV, to begin with.
How much does LALAL.AI cost?
If you're happy with the free test and need to split stems from quite a bit of material, LALAL.AI offer two affordable pay-as-you-go plans, the first being the 'Plus pack' priced at a one-time fee of £30 (it's currently on sale for £20) and the second 'Lite pack' priced at an affordable £10.
This makes quite a bit of sense, especially when considering producers are more likely to do so in small batches – unless they make a living doing bootlegs, which I suppose is something technology like this could further enable.
After selecting a file and an algorithm, it may take some time to upload – and once uploaded, further time to process; So depending on your plan, it might be a good time to step away and make a cup of tea.
Once processing is complete, there's a short preview you can check. If you're unhappy with the preview separation, your only option is to change the instrument separation type entirely. That said, the preview is crucial to determine if something's gone wrong and to try out a different instrument type entirely, before committing to process the files as that's when minutes finally get deducted from your plan's allotment.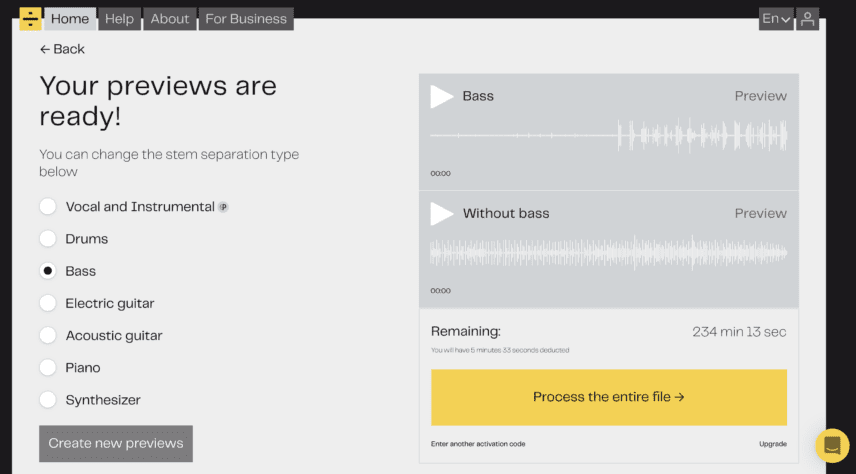 Are there any issues?
So how does it sound? Uploading songs with vocals, there's no question LALAL.AI excels at vocal processing, particularly with their new Phoenix algorithm. However, there's no option as yet to separate all musical elements simultaneously: it's the single selected instrument type stripped away, and all remaining elements together as a backing track.
For extracting vocals or removing them from instrumental sections, this makes sense, but in terms of easily accessing all stems, it's a bit time-intensive as you have to re-process and download for each instrument type – with time deducted from your plan for Each new element processed and downloaded.
As for other components, results varied somewhat by genre and production style. For example, a rock drum kit was isolated somewhat better than an electronic drum kit, where LALAL.AI mistook some synth bass transients for low toms. Speaking of synth bass, the same song isolated a synth bass along with pads as part of the synthesizer algorithm which is, admittedly, in beta.
Technically it was a synthesized bass, of course – but it also had identified the same element in bass mode, so if you had processed both, you'd be doubled up and would need to filter, gate, or sidechain to fit them side by side. This is also why it's good to check the online previews before committing to process and alter the decided algorithm as needed – in this case from synthesizer to, say, piano.
How do the results sound overall?
den, the overall results sounded excellent. It might be nice to make further fine-tuning adjustments after the preview stage, but there wasn't a great need for this, and the simplicity of the interface has its own value.
That said, while acapella's are sure to be the most popular use-case, more advanced producers would surely love an easier way to separate all stems simultaneously.
A fully cloud-based solution makes perfect sense for this sort of technology, as committing to full price on software that you're unlikely to use on a daily basis seems to make less sense than the pay-to-play model LALAL.AI have so elegantly put together here.
On the other hand, if you're looking for more intricate musical control, spectral analysis, or simultaneous stem separation, you should check out the tools in our stems shootout. Regardless, with their free trial option, LALAL.ai is doubtless worth a try.
FOLLOW ATTACK MAGAZINE
Related